Intro:
Tank designs from the West and Russia generally have different design philosophies which can mostly be traced from the World War II. These separate and distinctive philosophies have led to the tank designs of modern times and likely, in the near future. These of course, are also predicated and based off of the separate military strategies, doctrines, operational concepts and industrial capabilities found in each respective side. Of all the tanks produced, one particular design, the Russian T-90 series, can be assessed as having the potential to be labeled the best value main battle tank of the current era. Before getting into why, a quick rehash of the history that has led us here.
Yesterday:
Russian armored philosophy had originally a desire for two separate and complementary tiers of tank; one more general purpose and numerous and one less produced, but specifically focused and built for tank on tank combat or decisive operations. Historically, this can be traced from previous designs, such as the T-55 series and the T-64, followed by the T-72 and the T-80's. The purpose behind this philosophy is simple; one set of tanks are to be employed in numerous fashion, as it is cheap to manufacture, sustain and will serve as the general workhorse of the Army, while a more specialized tank will serve as the core armored force that directly deals with an enemies most decisive combat element(s). This philosophy can be found in Russian Army doctrinal approach, operating concepts and strategic industrial efforts. Further, it can found in the economic concepts of maximum values for effort, which leads to the last point; the concept of diminishing value on returns. All are relevant in the broad sense of military industrial efforts and how they are linked to warfare amongst nation states. In comparison, Western nations generally prefer to use a single main battle tank. This allowed for a single type of tank, which eased logistics and supply, a tenet of sustainment operations and afforded a wide range of construct options.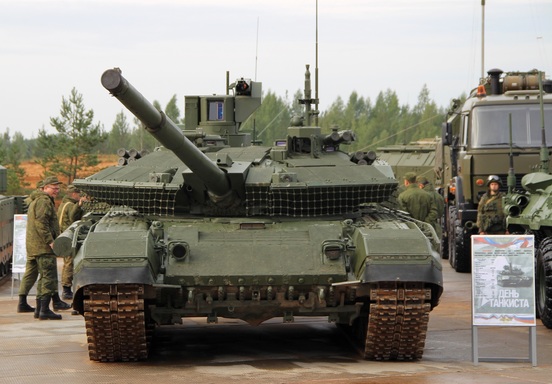 The Why:
Narrowing down the scope of efforts and eventually leading to the T-90 series, Russian armor designers displayed a preference for tanks that are distinctively smaller, with lower silhouettes and profiles, and moderate in weight in comparison to the majority of their Western counterparts. The main reasons for these differences can be found in military needs and operational realities, originally formed during World War II, as mentioned earlier. Russian tank designs are significantly cheaper to produce, operate and maintain, allowing the user to field a larger fleet and replace or repair tanks more quickly, to include trained crews, lost in combat. One cannot generate effective crews if the tanks are cumbersome and difficult to operate. This is a critical aspect of sustained combat operations and population mobilization, both concepts heavily replied upon by Russian military planners. Additionally, Russian tanks were designed specifically take advantage of relative tactical considerations, such as hasty self-protection measures in defensive positions, by possessing the capability of digging into hasty defensive positions, without the need for extensive engineering support, which could be counterproductive in maneuver warfare. Russian tank designs are also able to capitalize on their smaller designs by employing smaller and more fuel efficient engines, which aids in sustaining forces in positions and reduces the threat to logistical resupply units, always a prime target in terms relative to the prioritization of targeting high value or payoff targets. This in conjunction to relying less on specialized engineering equipment for tactical positioning, afford the T-90 as significant tactical advantage, and thus, a commander who is equipped with a force comprising of the tank.
The smaller designed tanks with less weight associated with it, also afford an increase in tactical nimbleness that can offer the user chances to exploit tactical advantages as they emerge, thus allowing important options via speed, sustainability and operational reach, which are greater than their Western counterparts. In terms of design aesthetics, the low-profile layout of Russian tanks are intended to present a more difficult target and reduce to a degree, being engaged or detected (less so with modern DRI capabilities). While this presents a trade off in terms of lost internal space and gun depression, relative mitigation efforts were drawn up to offset these losses and compensate via an enhanced combined arms approach.
Originally, the lighter weight associated with Russian tank designs presented its own trade-offs in which it had less armor protection. This began to change when Russian tank designers developing layered armor protection packages to address the evolving fin stabilized sabot rounds emerging in the West. Such protection measures include the Combination K package, seen on the T-64 series and later, an even greater protection approach, the use of Explosive Reactive Armor (ERA). These efforts, began to reinforce the advantages of Russian tank designs, as it afforded smaller and lighter tanks, near equal protection at certain ranges, to their Western counterparts. Furthermore, Russian tank designs placed more of a premium on direct fire Infantry support than Western militaries, and also more of a premium on protection against hand held anti-tank munitions, such as rockets, and anti-tank guided missiles. This is primarily due to Russian military doctrine and operational employment approaches that center armor forces as both a maneuver piece and also as a direct support piece for dismounted operations.
With a quick background on Russian tank design done, one can assess the T-90 "M" series (and its sub variants) in distinct and relevant categories; lethality, protection, cost(s) and maneuverability. Each category can be broken down into separate sub compartments. Each have an intended purpose and role relevant to the overall assessment of effectiveness and efficiency. The totality of a tank and its design can also be assessed through intended threats that it was designed to face as well as operational environment in which it is expected to operate in. In terms of lethality, the T-90 "M" series possesses a 125mm main gun, capable of firing a full range of munitions; anti-fortification and anti-personnel rounds, to anti-armor rounds, including depleted uranium rounds and even cannon launched guided missiles. The range of munitions capable of being fired, is greater than Western tanks, as cannon launched guided missiles are seen as a niche capability in the West. The fundamental question is if the munitions and cannon afford the Russian tank the ability to engage and defeat near peer threats originating from the West. The answer is yes, under certain conditions and in specific engagement scenarios. The versatility of the cannon and the munitions associated with it, give the T-90 excellent engagement options and afford the design a very versatile employment fan, as the ranges are up to 5km for missile guided munitions. In comparison, the West's most versatile tank is the M1A2 SEP V3 and is equipped with its 120mm AMP rounds and 120mm Depleted Uranium M829E4 rounds, but are significantly more costly in terms of procurement. The T-90 "M" series also benefit from advanced fire control systems with integrated thermal viewers, the grand cru style of fire control allow the T-90 to obtain, with a high degree of probability, a first round hit, while moving, in excess of 2km during day or night scenarios.
In terms of vehicle protection, the T-90 "M" series tank is protected by a layered approach not commonly seen in Western tank design until most recently. To begin with, the Russian tank is protected with a special compositional armor package which includes layered plates of steel, plastics and compositional elements encased in steel. This affords the tank a relatively sound amount of armor protection, whichisassessed to be between 550mm to 600mm of RHA against KE and CE rounds. The second layer of protection is obtained through ERA tiles fitted over the front and sides of the vehicle. Generally, the Russian vehicle employs either Relikt or Kontakt V ERA packages. Both packages give additional armor protection against KE or CE munitions and add roughly 280 to 350mm of additional armor protection against armor defeating munitions. In total, the T-90 "M" series tank, with ERA fitted, weighs under 55 tons and has an RHA protection against munitions, somewhere between 820mm-950mm. The last layer of protection comes from the option of placing a robust countermeasure system that is designed to defeat anti-armor missiles launched against them. The Russian designed "Shotora" system is a layered system comprising of multiple laser warning receivers placed around the vehicle. This then detects laser range finders or enemy target designators and warns the crew of any threat. This in turn leads to the second layer of the system; vehicle countermeasures are employed to defeat an enemy's targeting process. Countermeasures include infra-red and optical dazzlers, which are employed in the general direction of the omitting threat and attempt to blind or degrade the acquisition ability of the enemy sensors. Additional features here include the employment of various smoke grenades and or chaffe like elements to disrupt, misguide and obscure enemy optics and laser guided munitions.
In practice, the T-90 "M" protection scheme renders most of world's KE rounds ineffective at specific distances and engagements, as KE rounds are tethered to a complicated formula of mass, speed and distance in order to be effective. For CE rounds, the tank is more susceptible to enemy direct fires, but that is mitigated from the employment of ERA and Active Protective systems on the vehicle. If the ERA package(s) work as advertised consistently, then initial incoming missiles are likely to be defeated, thus enhancing the survivability of initial contact. Generally, this is a very lethal and well protected tank that is designed to address the most lethal threats by employing a layered defense and using distance and terrain to its advantage, while desiring to stay outside of the range of potential threats maximum effective firing ranges.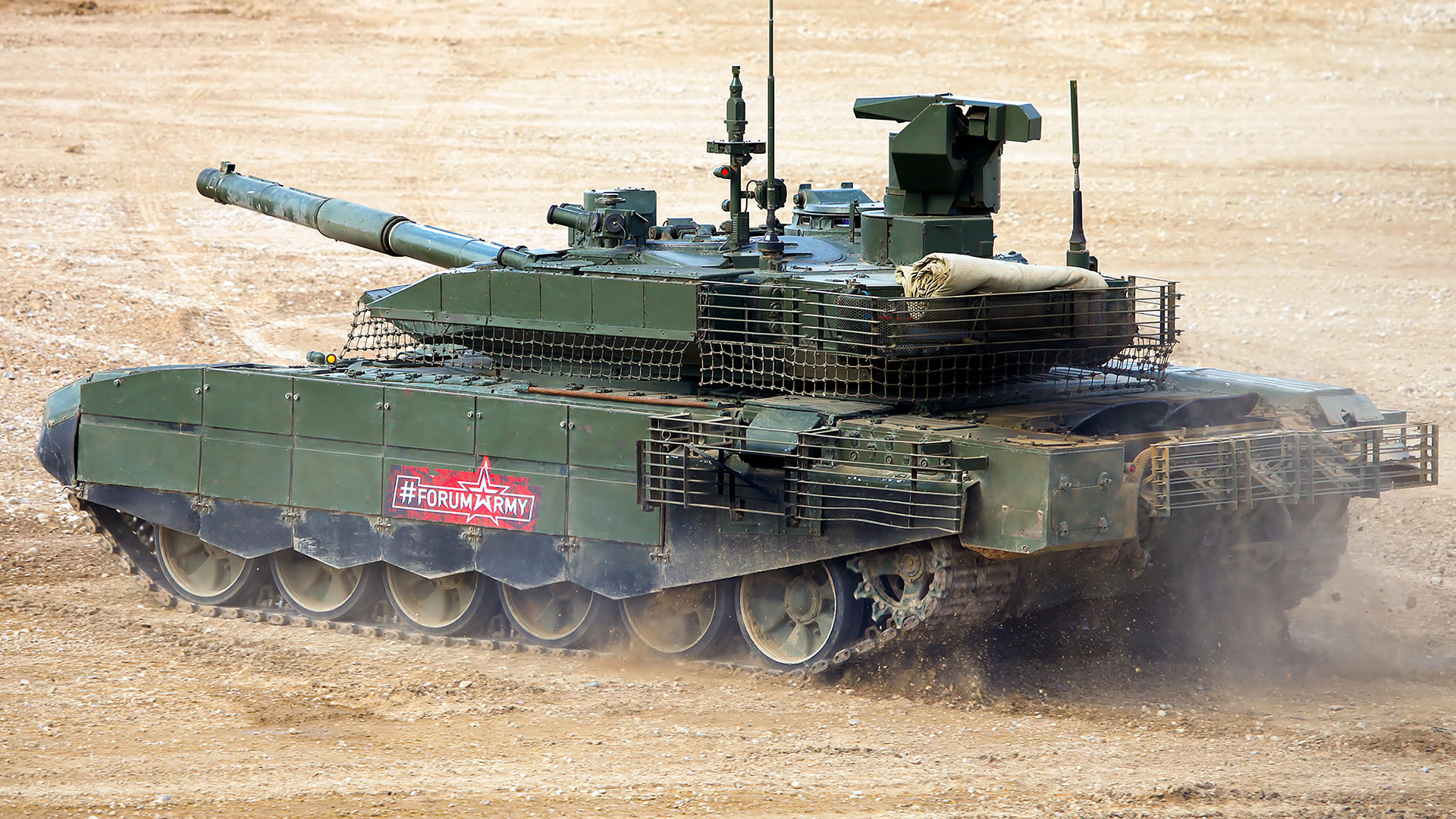 The T-90 "M" also has a newer engine, with an uprated power output that gives it a very capable speed, range and power to weight output. This allows the tank to extend its operational reach by reduced fuel consumption and without excessive over wear to the vehicles transmission systems and tracks. These small but intelligent design improvements render the tank with near top of the line range and endurance. When factoring in reliability and maintenance (RAM), the T-90 "M", from a technical perspective, retains the reliability of previous versions and gains added power to weight and fuel efficiency, from an operational aspect (of the three levels of warfare), this capability affords the tank certain advantages not seen in the West.
From an operational employment perspective, the tank affords the user the ability to rapidly move in a tactical setting, employ long range DRI capabilities and long range direct fires without sacrificing speed or tactical mobility. Further, at distances exceeding 2km, the tank possesses sufficient armor protection from the majority of direct fire main gun munitions and has sufficient protection from KE rounds along the frontal aspects of the turret. Against CE rounds, the tank has both an active system that alerts and counters CE rounds fired against it and will likely reduce the chances of a catastrophic kill by a notable margin. It will likely be furthered reduced when IV lines and micro terrain are taken advantage of. What limits the tank is more of a reliance on distance for protection, as its main threat, the M1A2 SEP V3, possesses the lethality to engage and defeat the tank in almost any scenario. This leads to employments and threat factors. The nations that employ the T-90 series no longer faces enemy forces equipped with sizable tank fleets, save Pakistan and China. The design matrix for this tank was to develop a near modern tank that can compete with more advanced Western tanks, for less money. By adopting this course of action and material solution, the tank can compete and reach near parity at reduced costs, while obtaining certain advantages through numbers and operational employment considerations. These factors make the tank a viable option for export and a formidable opponent if encountered in a realistic and fluid conflict (as opposed to piecemeal and limited actions in Syria and elsewhere).
In closing, the T-90 "M" series tank has a great blend of speed, size, firepower and protection. It accomplishes this at 1/3rd the cost of a Western built tank. The T-90 "M" was designed to take advantage of being modular, low cost, easy to operate and repair. These factors make the tank sustainable, and a sustainable war effort is critical in military endeavors. By improving upon the initial versions of the tank, improvements in lethality, through enhanced munitions and optics, give the tank some claim to near parity to the majority of its Western counterparts. What is more impressive with the tank, is that in relative terms of all aspects, it performs good enough and at a fraction of the cost of its competitors. The scale of diminishing return applies here, as unless the T-90 series were to face a large massed force of US M1 Abrams, then it is a competitive and very valuable tank that performs in near terms at a significantly lower expense burden on customer. For these reasons, the tank can be argued and declared a best buy of 2020.