Armenia: The Russian card. How close are Armenia and Russia? Both are members of the CSTO, which is a collective defence alliance. The CSTO charter reads "…Aggression against one signatory would be perceived as an aggression against all… "
Both countries contribute troops toward CSTO's "Collective Rapid Reaction Force" (KSOR).
Russia and Armenia deepened their military ties in 1997 with a treaty on "friendship, cooperation and mutual assistance." This is a bilateral treaty guaranteeing mutual military cooperation between Yerevan and Moscow. Should one country be attacked, both would respond, sharing hardware and facilities.
Because of the CSTO alliance linking both countries, their armed forces regularly train together.
What is the Russian footprint in Armenia?
Russia maintains a base in Gyumri. It was once home to the Soviet 127th Motor Rifle Division. After the fall of the Soviet Union, Russian troops remained, and the base was renamed 102nd Military Base. Officially, Gyumri hosts around 3,000 personnel, 74 tanks, 17 IFVs, 148 APCs and 84 artillery pieces as well as an unknown number of S-300 batteries. It is difficult to know for sure what the real numbers are, as a fair amount of hardware was transferred to Gyumri when the Russians vacated the 12th Military Base in Batumi and the 62nd Military Base in Akhalkalaki during their exit from Georgia, prior to 2007.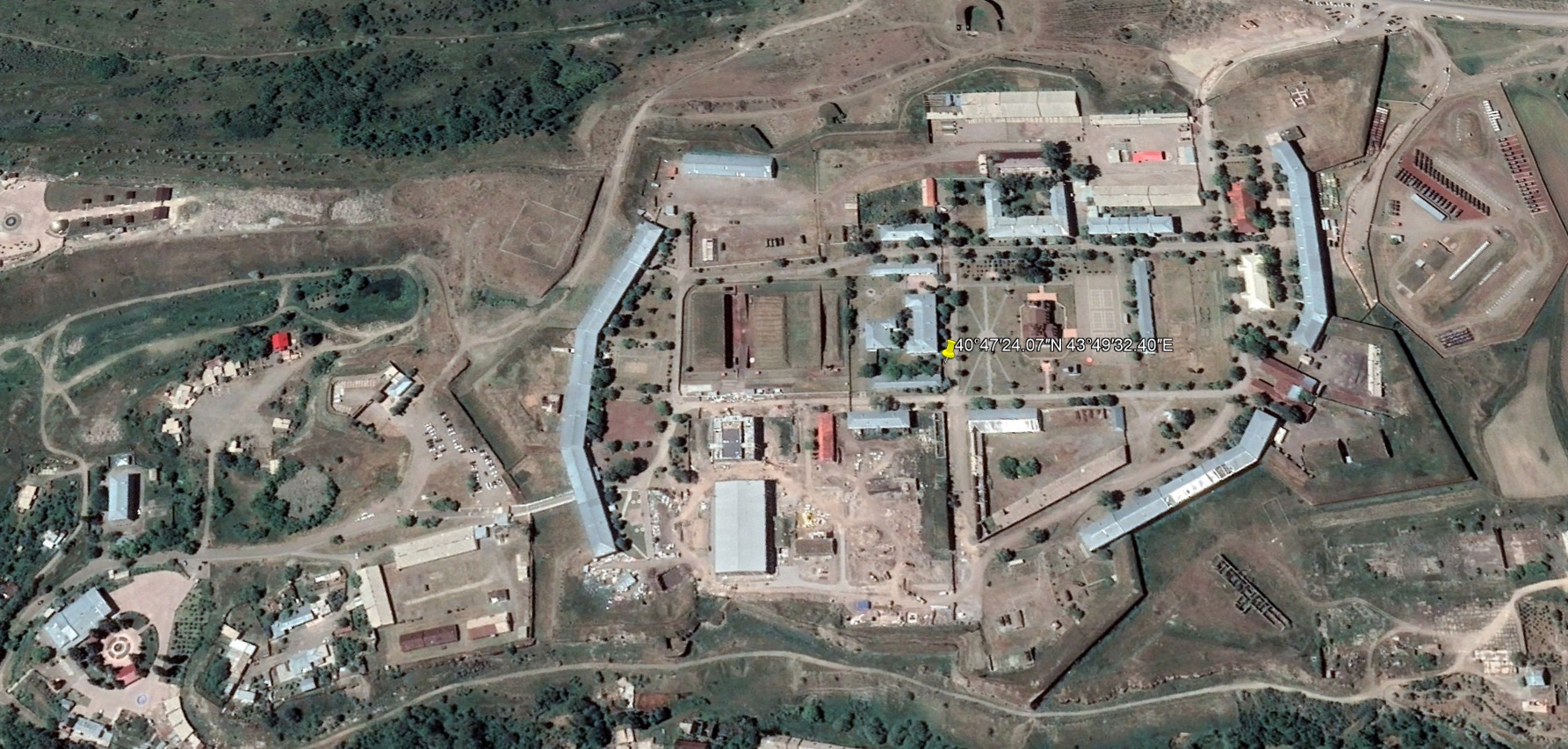 Russia also operates 18 MiG-29 from Shirak International Airport, situated to the South of Gyumri city. Although Armenia possesses a sizeable Air Defence Force (SAMs), the Armenian Air Force is small and was primarily designed to supply its armed forces with air support and lift capabilities. As such, it only counts four Su-30SM, twelve Su-25K, three Il-76, twelve Mi-8 and fifteen Mi-24.This means that Armenia depends on Russia for securing its airspace. Both countries are members of the defensive alliance CSTO, meaning that their respective air defences are integrated.
Furthermore, steps were taken in 2015 towards creating a Joint Regional Air Defence System/Command. The end goal was to increase detection means (radars and sensors) as well as establish more SAM batteries so as to create an "Air Defence Umbrella" in Armenia, covering part of the Caucasus and protecting the Southern flank of the CSTO alliance. It seems, however, that this Joint Regional Air Defence System is still a work in progress. Russia and Armenia also took steps from 2016 onward to integrate their armed forces: To be more precise, Russia is looking into integrating the Armenian army into the Russian Southern Military District (SMD/Kavkaz). The Russian 102nd Military Base and Armenia's 5th Corps seem to form the core of this structure (work in progress).It is also interesting to note that Russian border guards patrol Armenia's borders with Iran and Turkey!
In 2013, the 102nd Military Base commander confirmed that "If Azerbaijan decides to restore jurisdiction over Nagorno-Karabakh by force, the military base may join in the armed conflict in accordance with the Russian Federation's obligations within the framework of the Collective Security Treaty Organization (CSTO)." So far, however, Armenia has declined the opportunity to trigger any of the mutual defence mechanisms in place between the two countries.
Logistics…
Russia was able to resupply this base through Georgian airspace up until the Russo—Georgian War of 2008 after which the Georgian side suspended the agreement and subsequently voided it in 2011. A recent Russian request for cargo planes bound for Armenia to transit through Georgia was turned down. Georgia has been in a frosty mood with Moscow since the Russo-Georgian War of 2008. Furthermore, Georgia fears the effects of this conflict on its Armenian community: Just short of 200,000 Armenians live in the country. Half of them are in the province of Samtskhe-Javakheti, near the Turkish border. Many Armenians, there, used to earn a living thanks to the 62nd Russia Military base in Akhalkalaki. When Russia vacated the base in 2007, the economy suffered greatly. To avoid its Armenian population being dragged into the conflict next door (understand: Go fight in Armenia), Georgia has recently effectively closed its border with Armenia.
As right now Turkey and Georgia airspace are not an option, Russian supply to its Armenian ally and to its 102nd Base must be done by sea and land, across the Caspian Sea (around Azerbaijan) to the Iranian port of Noshahr, then overland to the Armenian border town of Megri City.The route used to be safe, but with the renewed clash between Armenia and Azerbaijan in Nagorno-Karabakh, some acts of sabotage against those convoys transiting through Iran have been recently reported: Between 16% and 20% of the Iranian population is ethnic Azeri!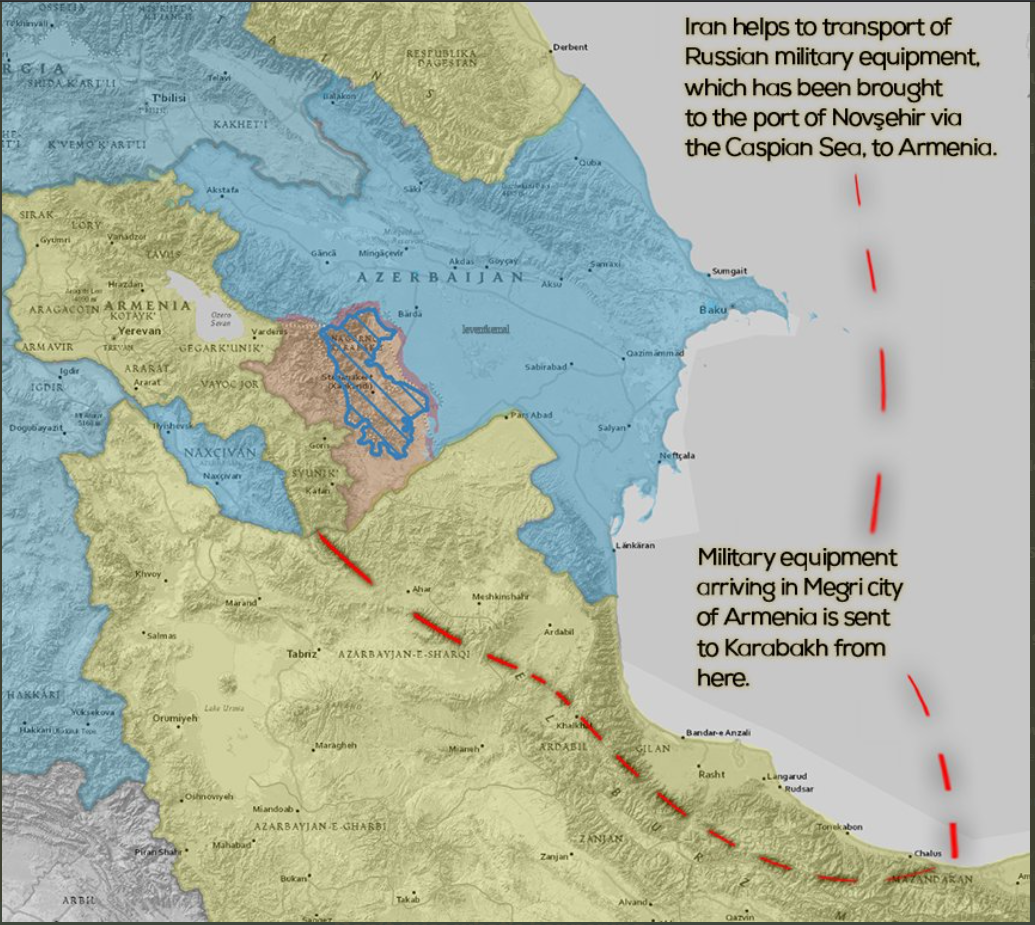 Russia, however, has a trump card up its sleeve should Armenia call for help: The Russian Federation shares a border with Azerbaijan proper and the Russian Caspian Flotilla is a force to be reckoned with in the region.
Make no mistake: The last thing Russia wants is another conflict in the Caucasus, along its borders. While Azerbaijan is not a CSTO member, Moscow has been careful to maintain a balance between Azerbaijan and Armenia and has sold weapons to both sides in order to maintain the status-quo between the two belligerents. While Armenia has remained in Moscow's orbit since the fall of the Soviet Union, Azerbaijan has been a free element. As such, the frozen Nagorno-Karabakh conflict and the occasional border clashes have provided diplomatic leverage for Moscow and an influence over Azerbaijan that simply would not be there if peace or one of the two sides was to prevail over the other! Moscow has long hoped for Azerbaijan to join the CSTO grouping. It would have guaranteed direct and constant high-level direct talks between Russia, Azerbaijan and Armenia, reduce the risks of clashes and maybe even bring a resolution to this conflict. It would also mean that 70% of the Caucasus would find itself under the Russia led CSTO umbrella and (finally) increased Russian influence and leverage in Baku!
While those dreams of integration seem to have vanished with increased Turkish interference in Azerbaijan, Moscow will still play the diplomatic card first: When Baku and Yerevan clashed in July 2020, it was Moscow that brought them around the negotiating table. Now that Ankara seems to be in the driving seat in Baku, such a peaceful outcome seems unlikely in the short term. It is still in Russia's interest to try and find a peaceful solution/resolution to this conflict. But by the same token, it is doubtful Moscow would shirk its military obligations toward its Armenian ally should Yerevan call for help… The risks of escalation are real.