Captain Lucas was a French Badass. Jean Jacques Étienne Lucas joined the French Navy in 1778. He was 14. From 1779 onward, he served onboard L'Hermione as a Quartermaster's Mate. L'Hermione is famous for being the ship that ferried French General LaFayette to the United States in 1780 in support of the rebels in the American Revolutionary War. In 1781, Étienne Lucas got his first taste of battle against the Royal Navy and won his first scar (on his left wrist).
By 1805, Lucas was a captain and was the commander of the ship of the line Redoutable. As a captain, he was obsessed with drills: His men were taught how to sweep a gun's deck with musket fire and grenades and had to train daily with swords, pistols, muskets and grappling hooks
Launched as Suffren in 1791, the Redoutable (renamed as such in 1794) was a French Temeraire class 3rd rate ship of the line (74 guns). She served in the Caribbean before taking part in the battle of Trafalgar in 1805. There, she was the 4th ship in the French line behind their flagship Bucentaure.
During the battle of Trafalgar, as Nelson attempted to cross the French line, the two French ships behind the Buccentaure dropped behind, exposing the flagship's stern. Fearing that HMS Victory could edge behind Buccentaure and rake her, Captain Lucas sailed Redoutable forward and attempted to close the gap. Redoutable found herself facing off to Victory. The odds were not in favour of the French ship: She was a 2 decks 74 guns 3rd rate and was now faced with a 104 guns 1st rate! Nevertheless, Redoutable opened fire, unleashing a withering 10 minutes barrage aimed at Victory's rigging in an attempt to disable her. Victory's foremast tops, mizzen and main topgallant ended up damaged, but her momentum brought her up against Redoutable. Both ships became entangled.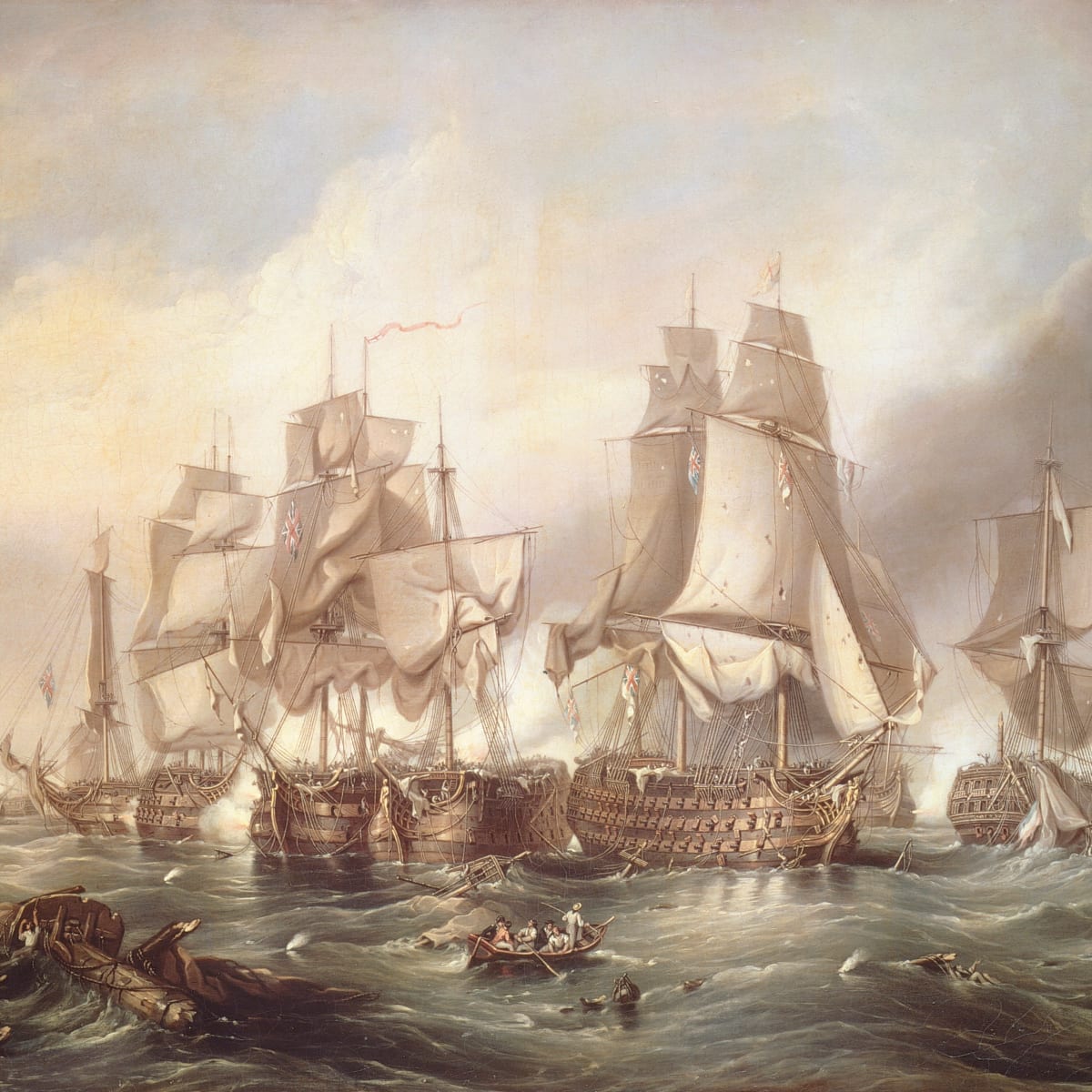 Lucas had relentlessly prepared his men for just this scenario and Redoutable had a sizeable infantry corps on board: 100 Frenchmen unleashed a 15 minute musket volley barrage on Victory, throwing an estimated 200 grenades on its decks for good measure. Victory's Castle and Quarterdeck were soon covered with dead and wounded British sailors, to a point where the Brits stopped returning fire. It was during this exchange that Nelson was mortally wounded.
Sensing that he had the initiative, Lucas ordered his men to try and board Victory. However, this was not an easy task as Victory's freeboard was higher than Redoutable's own.The French were about to board Victory when HMS Temeraire, a 98 guns 2nd rate, pulled alongside Redoutable and opened fire at point blank range, killing and wounding scores of French sailors. The ordeal wasn't over for Redoutable, as HMS Tonnant, an ex-French 80 guns ship, came alongside, too.
Redoutable was now engaged in an artillery duel, at point blank range, against three ships, all bigger than her. Lucas himself was wounded but refused to give in. The French cannon crews worked so hard that two of Redoutable's guns overheated and exploded, killing and wounding nearby sailors and gun crews.
The initial engagement started at around 12 noon. Redoutable and Victory started their Face-Off at around 12.45. Captain Lucas only struck his colours at 14.30 when Redoutable was threatening to sink and he was left with only 99 able men out of a crew of 643 men. His ship had suffered 300 dead and 222 men severely wounded during the engagement. Victory sustained 160 casualties during the battle. Many of those inflicted by Redoutable. Temeraire suffered 120 casualties during the fight.
Don't think, however, that Captain Lucas was easier to deal with once that he had struck his colours: As Redoutable and Temeraire were still entangled, he threatened to burn his ship and take the Royal Navy ship down alongside his own, unless the British sent men to man the pumps of his ships to try and keep her afloat!
Redoutable was taken in tow by HMS Swiftsure the next day, but the French ship was dying. Lucas signalled for help and Swiftsure sent men and boats to evacuate her, but it was too late: She sank, taking with her 196 men. Most of those were men severely wounded during the fighting the previous day. They could not move on their own. Captain Lucas was taken prisoner in England where he was treated with great respect and courtesy. Upon his release and return to France, he was awarded the title of Commandeur of the Legion of Honour by Napoleon himself. Captain Lucas was a French Badass… And the Royal Navy would soon face him at sea all over again!
Fast forward to 1809 and Captain Lucas was in command of the Regulus, a Temeraire Class 3rd rate ship of the line (74 guns). Regulus was part of the French Atlantic fleet, which was made up of 11 ships of the line and 4 frigates. Said fleet was blockaded by the Royal Navy and trapped in shallow waters near Rochefort. The British Blockading force was made up of 11 ships of the line, 7 frigates, 4 brig-sloops, 2 bomb vessels, 6 brigs, 1 schooner, 2 cutters and 3 rocket barges.
Lord Cochrane was put in charge of the Royal Navy squadron and tasked with neutralising the French fleet. The battle of the Basque Roads was about to start: On the 11th of April 1809, he launched an attack on the French positions, starting with fireships and bombships sailing directly at the French vessels. In the ensuing confusion and panic caused by the arrival of those fireships, many French vessels ran aground trying to escape. Captain Lucas' Regulus was no exception and it ran aground, too. Regulus was in a precarious position and threatened to capsize. Captain Lucas, in an attempt to save his ship, ordered most of his guns to be thrown overboard, only keeping 16 of them alongside just enough projectiles, powder and supplies to last a month. Regulus was temporarily refloated this way, but drifted and ran aground again, this time on Les Palles shoals.

On the 13th of April, the Royal Navy sent in several small ships to engage and finish off the grounded French ships. They managed to sink/destroy a couple of them but when they came close to Regulus, they were fired at by Captain's Lucas gun crews. The ensuing battle lasted 6 hours after which the Royal Navy ships retreated. The British came back a second time, on the 20th of April, only to be repulsed again. By the 24th of April, Regulus was listing so badly that its gun ports were no longer parallel with the sea: The vessel's canons were unable to engage the Royal Navy ships coming for her… This would have been a problem for any other captain, but not for Lucas: He ordered his men to hack into the hull of their own ship and cut 6 new portholes so they could bring 6 guns to bear on the incoming British. Incredibly, Captain Lucas and his men managed to repulse the Royal Navy ships after an 8 hours long battle!
On the 25th of April, the British, having sunk 4 ships of the line, one frigate, and damaged all the other ships of the French Atlantic Fleet, decided to call it a day and departed. As for Captain Lucas, not being one to abandon his ship, he got his men back to work and within four days, managed to refloat the Regulus and then casually sailed it back to Rochefort port, where the population welcomed him like a hero.
Following the battle of the Basque Roads, Captain Lucas, enraged by this French defeat, confronted Napoleon himself. He was allowed to remain in command, but it was made clear he would never be allowed to rise in rank in the French Navy. Captain Lucas retired in 1816 and died in 1819, age 55.
Captain Lucas was once described as "Pugnacious, bombastic, but a superb trainer of men, lion-heartedly and dementedly brave and cool under fire".