France, Spain, Italy, Portugal, Greece, Cyprus, and Malta held an EU Southern Summit today. The focus was on Turkish activity in the eastern Mediterranean. Once the session ended, they issued a statement: "Joint statement of the EU Southern Summit: We are ready to draw up a list of sanctions against Turkey unless it backs down from its unilateral actions."
Some interesting quotes/points.
France; France accused Turkey of "playing a game of domination and control in the Mediterranean." France also called on Turkey to stop drilling in the Mediterranean and exporting weapons to Libya.
Cyprus; Cyprus accused Ankara of violating the sovereignty of two European countries, Cyprus and Greece, and also stated that "we will use all tools to confront the illegal Turkish measures related to the exploration operations in our territorial waters."
Greece; agreed on the strategy against Turkey. An end to the "provocations" was demanded. The Greek government declared "Greece is not alone".
Turkey on the summit; "The Greek side is not ready for a sincere dialogue with us. The agreement between Egypt and Greece harms the interests of Turkey and its maritime rights." Pictured shows a tweet from Fahrettin Altun, the Turkish Communications Director.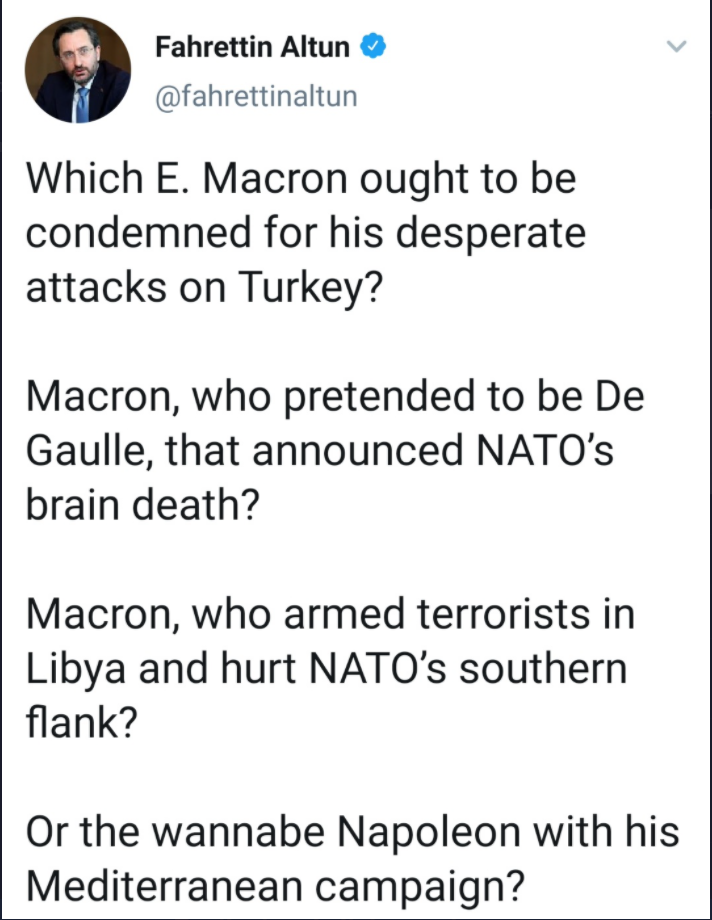 Greece and France have also agreed on a "strategic partnership," and that they were in "complete agreement" regarding Turkey.